Van Gogh Michael Michaud® Pendant Almond Blossom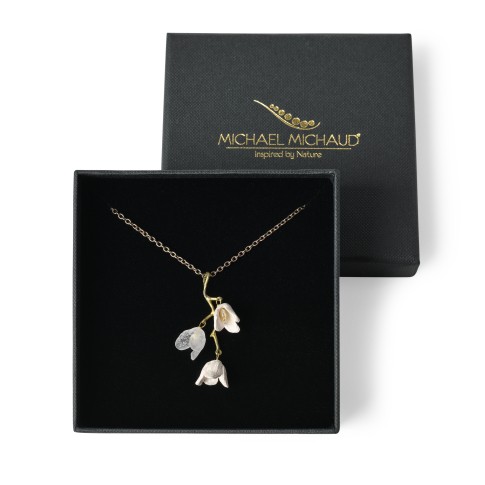 Van Gogh Michael Michaud® Pendant Almond Blossom
Your purchase supports the work of the Van Gogh Museum
Official webstore Van Gogh Museum
Worldwide delivery
Secure payment
In shopping cart
Description
The Van Gogh Almond Blossom Collection, created by world-renowned botanical jewellery designer Michael Michaud, is exclusively designed for the Van Gogh Museum.
This exquisite pendant necklace is cast in hand-patinated bronze and features hand-casted glass and matte silvery-white finished bronze Almond Blossom flowers, accented with freshwater pearls.

Large blossom branches against a blue sky were one of Van Gogh's favourite subjects. Almond trees flower early in the spring making them a symbol of new life. Van Gogh borrowed the subject, the bold outlines and the positioning of the tree in the picture plane from Japanese printmaking.
The painting was a gift for his brother Theo and sister-in-law Jo, who had just had a baby son, Vincent Willem. In the letter announcing the new arrival, Theo wrote: 'As we told you, we'll name him after you, and I'm making the wish that he may be as determined and as courageous as you'. Unsurprisingly, it was this work that remained closest to the hearts of the Van Gogh family. Vincent Willem went on to found the Van Gogh Museum.
Specs
The Almond Blossom pendant is cast in oxidised bronze and accented with hand cast glass flowers and freshwater pearl flower buds. Necklace measures: 40 cm length (16"), adjustable. Pendant: 4 cm (1.5").
Article number:

603057

Brand:

Michael Michaud® specially designed for Van Gogh Museum®

Length:

40 cm

Weight:

36 gram

Material:

Bronze, fresh water pearls, glass