Floral Street scented reeds Sunflower Pop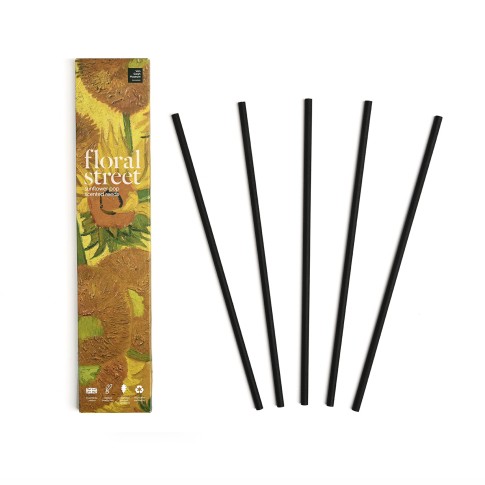 Floral Street scented reeds Sunflower Pop
Your purchase supports the work of the Van Gogh Museum
Official webstore Van Gogh Museum
Worldwide delivery
Secure payment
In shopping cart
Description
Floral Street x Van Gogh Museum brings to life the essence of Van Gogh's world-famous paintings through a sensory experience where fine art meets fine fragrance.

Infused with vegan fragrance oil, these plastic free scented reeds are 100% recyclable and created with FSC certified paper. With scent diffusion that lasts for up to eight weeks they bring mood boosting, contemporary florals into your happy places.

Sunflower Pop – bright, expressive, vibrant and happy.
Yellow-tipped sunflowers from a brush of Van Gogh inspire this vibrant citrus fragrance where lively orange bursts with a splash of bergamot, warming white cedar wood and a pop of sparkling bellini accord. Unexpectedly, wild fig is freshened with a touch of spearmint in this joy bringing sun-soaked scent. Bursting with rays of optimism it has the innate power to lift and illuminate every pocket of your home. Vibrant and happy making like a bright, summer morning that instantly transports you to the warmth of the Provence.
Specs
Use 2-3 reeds for a gentle fragrance or smaller space and up to 5 for a higher scent intensity to enliven large rooms • Ideal to bring on your travels • Wrapped in beautifully designed FSC certified floral packaging – a choice that enables Floral Street to carbon balance via the World Land Trust.
Article number:

607352

Brand:

Floral Street x Van Gogh Museum®



De complete Floral Street Home collection is available in our Museum Shop in Amsterdam.