Sunflower Pop scented candle, Floral Street x Van Gogh Museum®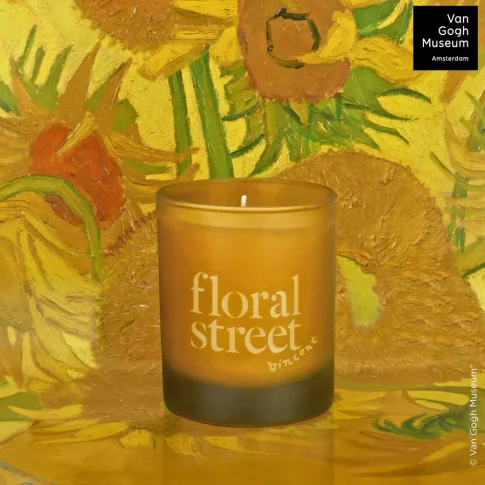 Sunflower Pop scented candle, Floral Street x Van Gogh Museum®
Your purchase supports the work of the Van Gogh Museum
Official webstore Van Gogh Museum
Worldwide delivery
Secure payment
In shopping cart
Description
40 hours burn time / 7oz / 200g

Yellow-tipped sunflowers from the brush of Vincent van Gogh inspire this vibrant blend of citrus: lively orange with a splash of bergamot, warming white cedarwood, mint and a pop of sparkling bellini accord. Joy-bringing, sun-soaked and bursting with rays of optimism.

Tips for candle care:
Keep out of reach of children (yes, even the pets) and flammable materials. Never burn in a draught and always place on a heat-resistant surface. Keep your candle wick trimmed to ¼" before lighting (to avoid any smoking). When lighting your candle for the first time, ensure to burn it for at least 4 hours (to avoid tunnelling). Never burn to the very bottom of the container.
Specs
Natural Vegan Wax | Cruelty-free | Sustainably Sourced Clean Ingredients | Handcrafted in the UK | Planet-Friendly Packaging
Article number:

607321

Brand:

Floral Street x Van Gogh Museum®

Height:

9 cm

Diameter:

8 cm

Weight:

200 gram



Vincent van Gogh, Sunflowers, 1889