Van Gogh Franz Collection® porcelain Teapot Sunflowers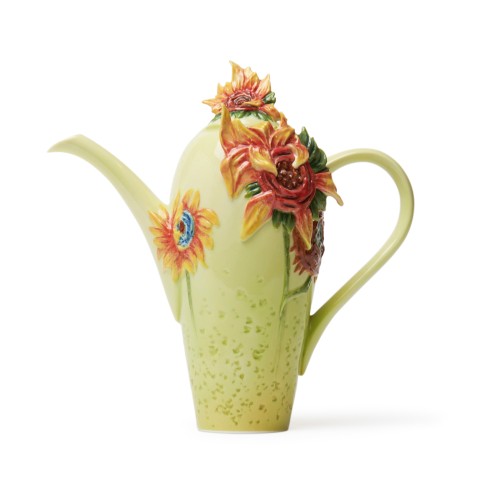 Van Gogh Franz Collection® porcelain Teapot Sunflowers
Your purchase supports the work of the Van Gogh Museum
Official webstore Van Gogh Museum
Worldwide delivery
Secure payment
In shopping cart
Description
Fine porcelain teapot decorated with three-dimensional sunflowers, especially created for the Van Gogh Museum by Franz Collection.

Established in 2001, Franz Collection's unique style and craftsmanship, integrating Chinese and Western aesthetics, has won numerous awards and gained a dedicated global following. The brand has managed to incorporate its roots in the original founding city of the porcelain process: Jingdezhen, China. Here the process of perfection starts as no other city in the world can claim ownership to this 1700-year-old art form.

Each Franz item is elaborately made through hundreds of manufacturing procedures with the finest clay and their 'secret' glaze ingredients. With environmental protection in mind, the company saves energy and reduces the emission of CO2 by using a new formula to lower the firing temperature, striving to do no harms to the earth in the manufacturing procedures.

For this exquisite design with three-dimensional sunflowers Franz Collection took inspiration from the optimism that shines through in Van Gogh's daring use of bright shades of yellow and the way Vincent captured the robust sunflowers and petals that curve in a stubborn way before they dry out.
Specs
Unique three-dimensional design • Comes well protected in a Franz Collection gift box • The bottom of each Franz item is embossed with the registered trademark of Franz and the signatures of both designer (right side) and sculptor (left side).
Article number:

621525

Brand:

Franz Collection specially designed for Van Gogh Museum Amsterdam®

Height:

19 cm

Material:

Porcelain