Tiny Miracles® Paper Vase Cover Sunflowers small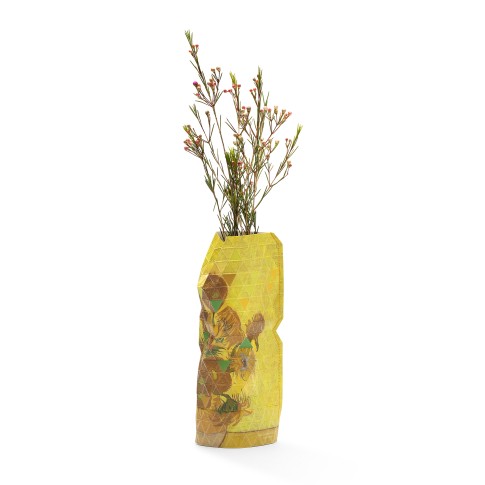 Tiny Miracles® Paper Vase Cover Sunflowers small
Your purchase supports the work of the Van Gogh Museum
Official webstore Van Gogh Museum
Worldwide delivery
Secure payment
In shopping cart
Description
Instead of throwing your empty bottles away, reuse them as vases with these exquisite paper covers inspired by Van Gogh's masterpieces. 'Tiny changes can lead to miracles' is the motto of the Tiny Miracles Foundation. Proceeds from sales of their sustainable, foldable vases contribute to reducing poverty around the world. Available in Almond Blossom and Sunflowers prints.

The Tiny Miracles Foundation is a Netherlands-based charity founded in 2010 by Laurien Meuter and her cousin designer Pepe Heykoop. The foundation focuses its efforts on eliminating poverty in one of the most impoverished city areas of Mumbai, India: the Pardeshi community in slums bordering on the red light district.

See video for assembly instructions:
Specs
The unique triangular paper design ensures easy assembly in under a minute. Fairtrade & sustainable.
Article number:

603224

Brand:

Tiny Miracles | Van Gogh Museum Amsterdam®

Length:

11 cm

Width:

8 cm

Height:

25 cm

Weight:

60 gram

Material:

Paper