Cushion Vincent's flowers gold Ø40 cm, Beddinghouse x Van Gogh Museum®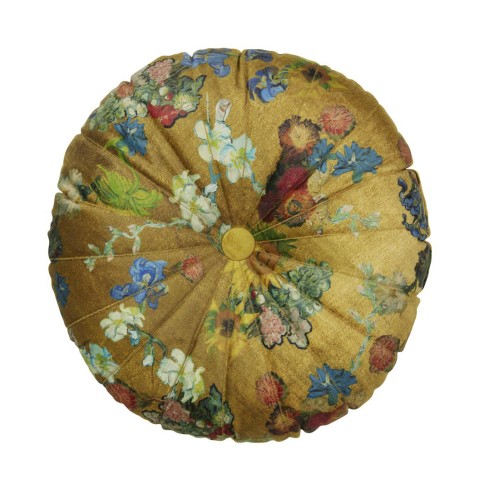 Cushion Vincent's flowers gold Ø40 cm, Beddinghouse x Van Gogh Museum®
Your purchase supports the work of the Van Gogh Museum
Official webstore Van Gogh Museum
Worldwide delivery
Secure payment
In shopping cart
Description
This decorative cushion by Beddinghouse x Van Gogh Museum is a special anniversary edition and pays tribute to Vincent's flowers

In 2023, we celebrate the museum's 50th anniversary!
To mark this festive milestone, we have designed an exclusive artwork dedicated to Vincent's Flowers.

Vincent's love for nature is visible in all the flowers he painted during his life. For this special occasion, all his flowers are combined into one blossoming bouquet celebrating the 50th anniversary of the Van Gogh Museum Amsterdam.

With over 200 paintings, close to 500 drawings and more than 700 letters, the Van Gogh Museum houses the largest collection of works by Vincent van Gogh anywhere in the world. The Van Gogh Museum has been inspiring countless devotees with the life and work of Vincent van Gogh and his contemporaries for over 50 years. All of our products are developed with Vincent van Gogh's heritage in mind and every purchase contributes to maintaining the Van Gogh Museum activities, during our anniversary celebrations and beyond.
More information: vangoghmuseum.com/51
Specs
This colourful, all-over design is a gorgeous statement piece in your living room. The back of the decorative cushion has a solid gold colour. A unique design for a unique moment in the history of Van Gogh and the Van Gogh Museum.
Article number:

630275

Brand:

Beddinghouse x Van Gogh Museum®

Diameter:

40 cm

Material:

100% polyester velvet, filling 100% polyester

Washing instructions:

Do not wash, only remove stains. Not suitable for tumble dryer.