Van Gogh Hexagon bracelet in lacquered resin, by Ellen Beekmans®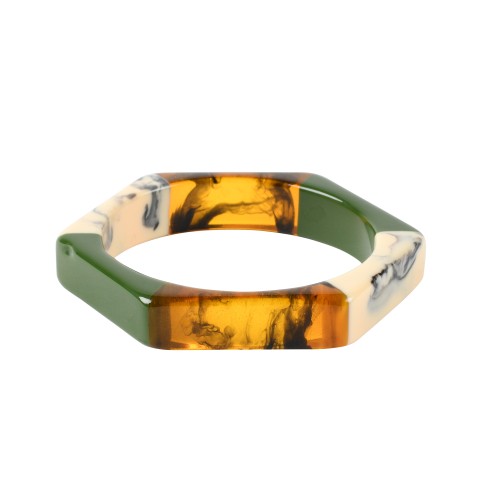 Van Gogh Hexagon bracelet in lacquered resin, by Ellen Beekmans®
Your purchase supports the work of the Van Gogh Museum
Official webstore Van Gogh Museum
Worldwide delivery
Secure payment
In shopping cart
Description
Jewellery designer Ellen Beekmans designed a collection of necklaces, rings, bracelets and earrings inspired by the colours of the painting 'Almond Blossom' by Vincent van Gogh.
Different shades of green, blue, nude and turquoise, flower and leaf shapes in gold, ceramics, wood and lacquered resin, form a refined and accessible collection of jewellery. Each piece is handmade by Ellen in her studio in Hilversum, The Netherlands.

The work 'Almond Blossom' is very special to the Van Gogh family because Vincent gave it to his brother Theo and his wife Jo when their son Vincent Willem was born. Because the almond tree blooms early in the spring, it is a symbol for new life.
Specs
Multicoloured bracelet from lacquered resin in green, amber and white marble tones.
Article number:

601329

Brand:

Ellen Beekmans® specially designed for Van Gogh Museum®

Height:

1.5 cm

Weight:

32 gram

Material:

Lacquered resin