Duvet cover Blossoming Green, Beddinghouse x Van Gogh Museum®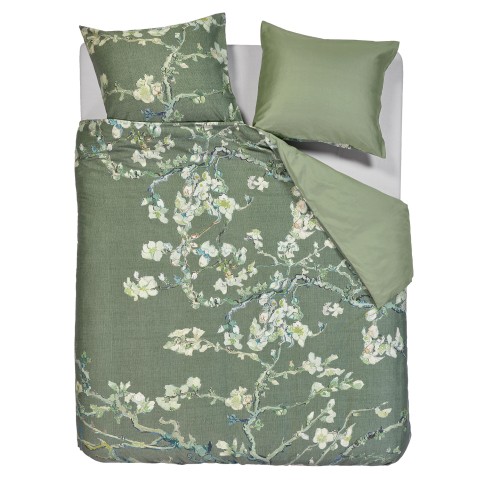 Duvet cover Blossoming Green, Beddinghouse x Van Gogh Museum®
Your purchase supports the work of the Van Gogh Museum
Official webstore Van Gogh Museum
Worldwide delivery
Secure payment
In shopping cart
Description
A unique partnership between the Van Gogh Museum and Beddinghouse - leading expert in bed textile - resulted in a special bedding collection of luxurious duvet covers.
The designs are based upon the well-known paintings of the Van Gogh Museum collection - each telling a story of dreams, passion, and beauty. Naturally, the colour palette perfectly complements upcoming fashion and interior trends. All duvet covers are made of 100% cotton satin, providing comfort and a magnificent shine.

'Blossoming Green'
The painting Almond Blossom was a gift for his brother Theo and sister-in-law Jo, who had just had a baby son, Vincent Willem. Almond trees flower early in the spring making them a symbol of new life. Van Gogh borrowed the subject, the bold outlines and the positioning of the tree in the picture plane from Japanese printmaking.

In the letter announcing the new arrival, Theo wrote: 'As we told you, we'll name him after you, and I'm making the wish that he may be as determined and as courageous as you.'
Specs
Available in single or double size (add to cart to select size) • Certificate of Authenticity included • Luxurious and sustainable packaging especially created for the Van Gogh Museum. Reuse the box for anything you want to store.
Article number:

VG_608885

Brand:

Beddinghouse x Van Gogh Museum®

Material:

Cotton satin is made of 100% high quality breathable cotton 220TC and is moisture-absorbent. The duvet cover can be washed at a temperature of up to 60 degrees, is suitable for the tumble dryer and can be ironed. The high quality ensures that even after washing the duvet cover will retain its beautiful shape and colour.

Quality:

The developing of this high-quality bedding has been handled with the utmost care and respect to the art of Vincent van Gogh. Bedding House, celebrating its 40th anniversary, has developed into a leading company in the market of bed and bath linen with a strong focus on innovation, sustainability, quality, and design. As a result, Bedding House creates high-quality collections, inspired by the latest trends in fashion and interior.

Dimensions:

Single: 140x200/220 cm with 60x70 cm pillowcase • Double: 240x200/220 cm with two 60x70 cm pillow cases • The duvet cover has a length of 260 cm and is therefore suitable for both 200 and 220 cm length duvets • Add to cart to select size.