Van Gogh Velvet Dreams earrings Almond Blossom, by Miccy's®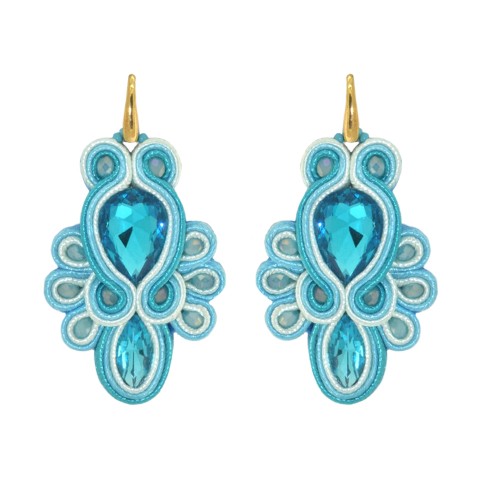 Van Gogh Velvet Dreams earrings Almond Blossom, by Miccy's®
Your purchase supports the work of the Van Gogh Museum
Official webstore Van Gogh Museum
Worldwide delivery
Secure payment
In shopping cart
Description
These stunning turquoise earrings are true works of art. Handcrafted from fabric, using a 16th century technique, and finished with crystals and beads. Not only to dress up a simple outfit, but also the perfect earring for any festive occasion.

Out of the ordinary, seductive, and eye-catching design, that's the Velvet Dreams Collection by Miccy's. Exclusively for the Van Gogh Museum, Miccy's designed a collection of jewelry inspired by Vincent van Gogh's Almond Blossom. Uniquely shaped by hand into extraordinary designs and crafted to enrich your latest outfit.

Miccy's is a luxury jewelry brand best known for its imaginative and bold designs, worn by celebrities and Dutch royalty. Each earring is handmade from the finest materials.
Specs
The earrings are completed in Miccy's atelier in The Netherlands and finished with 18k gold plated 925 silver findings • The earrings are nickel free and designed to avoid any allergic reactions • Miccy's ensures that the studios they work with meet their high standards of fair trade, good working conditions and social responsibility
Article number:

609035

Brand:

Miccy's exclusively designed for Van Gogh Museum

Length:

6.2 cm

Width:

3.2 cm

Height:

0.9 cm

Weight:

12 gram

Warranty:

Includes certificate of authenticity. 2 year warranty on manufacturing defects.

Material:

18k gold on 925 silver, ribbon and crystals



Vincent van Gogh, Almond Blossom, 1890