Van Gogh Newby® tea in tin, Almond Blossom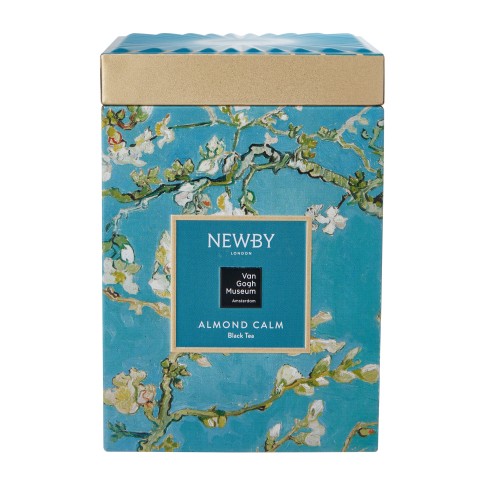 Van Gogh Newby® tea in tin, Almond Blossom
Your purchase supports the work of the Van Gogh Museum
Official webstore Van Gogh Museum
Worldwide delivery
Secure payment
In shopping cart
Description
As a celebration of Vincent van Gogh's inspiring floral paintings, Newby developed three specially-created fine tea blends for the Van Gogh Museum in Amsterdam.
This richly invigorating black tea reflects the beauty and delicacy of Van Gogh's much-loved Almond Blossom, a painting symbolic of new life. The leaves are infused with the natural flavour of almonds, their evocative aroma mingling with a warming sweetness.

Tasting notes:
Sweet yet strong with light notes of vanilla and warm, toasted almond, this malty black tea charms with its nutty aroma and honeyed aftertaste.

About Newby:
Newby was founded in London at the turn of the millennium with a clear mission - to reintroduce quality tea and revive the world's love for it. Their fine teas and tisanes can be found in five-star hotels, Michelin-starred restaurants and high-end stores globally. The award-winning blends will take you on a flavourful journey guaranteed to excite and inspire.
Specs
This caddy is recyclable and reusable • Contains: 100g (3.5oz) • Ingredients: black tea, natural almond flavor, almond pieces • The perfect cup: Use 2g of tea or one teaspoon per cup. Brew with fresh water at 100°C for 3-5 minutes.
Article number:

601947

Brand:

Newby® specially designed for Van Gogh Museum®

Length:

11.9 cm

Width:

8.2 cm

Height:

8.2 cm

Material:

Tea in metal tin

Quality:

Newby is the world's most awarded luxury tea brand. Only the bud and the top two leaves, those hand-picked in prime season from March to July go into Newby products.
The teas are sealed in foil to further protect the tea from heat, light, humidity and air pollution. They possess the same quality and character when you drink them as when they left the tea garden.