Van Gogh Scarf Crystallized Almond Blossom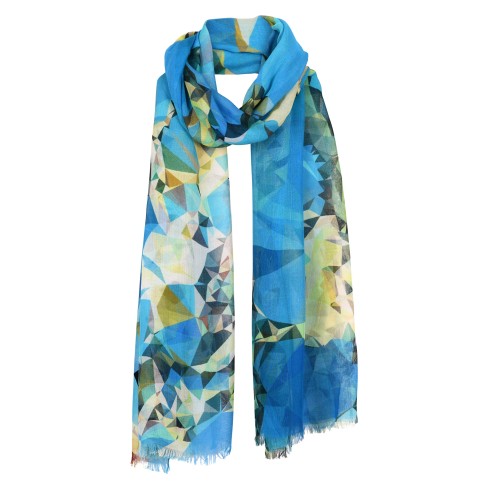 Van Gogh Scarf Crystallized Almond Blossom
Your purchase supports the work of the Van Gogh Museum
Official webstore Van Gogh Museum
Worldwide delivery
Secure payment
In shopping cart
Description
Even after a century, Van Gogh's paintings are still striking and etched into our collective memory. For designer Ka-Lai Chan, the enduring appeal of Van Gogh's paintings lies in his bold use of colour and the distinct shapes that stand out from the background. Inspired by the paintings Sunflowers and Almond Blossom, Ka-Lai created a contemporary and fresh translation to use as a print for this eye-catching scarf.

Chan took the characteristic elements of these paintings and transformed them into colour gradients and crystallized works. By reducing the shapes in the painting to taut lines or simple cutting them out from the background, the allure of the overall shape and composition is revealed. It shows how recognizable Van Gogh's paintings are, even without his typical brushstrokes! Chans modern translation gives a completely new dimension to the original paintings.

Puik Art – Amsterdam
Puik Art offers innovative and original products made by talented Dutch designers. Working together in a close partnership, Puik Art helps young designers launch their creations. For the Van Gogh Museum, Puik Art commissioned Ka-Lai Chan to design unique items. Ka-Lai specializes in creating interior design products.
Specs
This luxurious scarf is made from modal and feels like a cozy, soft hug. Modal is a plant-based material made of beechwood. Its fineness is comparable to that of natural silk • Lightweight, super soft and transparent • Matte finish • Comes with a 1cm fringe • Abstract print inspired by Vincent's Almond Blossom.
Article number:

600896

Brand:

Puik Art® especially designed for Van Gogh Museum®

Length:

180 cm

Width:

70 cm

Material:

100% Modal