Van Gogh Monopoly® board game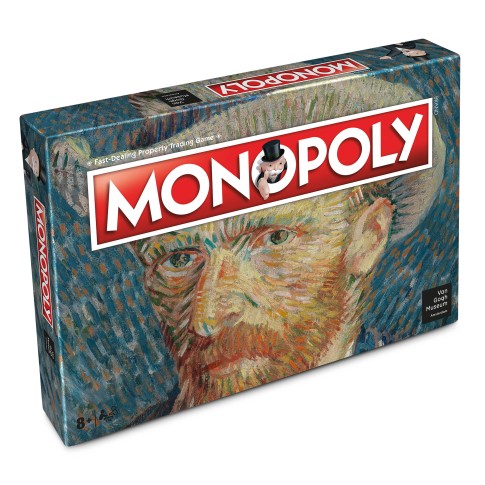 Van Gogh Monopoly® board game
Your purchase supports the work of the Van Gogh Museum
Official webstore Van Gogh Museum
Worldwide delivery
Secure payment
In shopping cart
Description
Vincent van Gogh travelled far and wide throughout his lifetime. The places where he lived inspired him to create his artworks. With the Van Gogh Museum edition of Monopoly, join the artist's journey from the Netherlands via Belgium to France. During the trip, find out all about the paintings he created in these three countries.

The collaboration between the Van Gogh Museum and Monopoly resulted in a unique edition of the board game. The board consists of paintings by Vincent van Gogh, and his famous work The Yellow House (The Street) forms the basis for the board game. Two exclusive tokens – only available with this edition – were also designed: a paint tube and the bed from Van Gogh's painting The Bedroom. A booklet with facts and information about Van Gogh completes the game.

The Van Gogh Museum is always seeking new ways of telling the story of Vincent van Gogh. The collaboration with Monopoly means that through playing, families all around the world get to know the life and work of the Netherlands' most famous 19th-century artist. The Van Gogh Museum also supports the focus of Monopoly's parent company Hasbro on corporate social responsibility and their mission to make the world a better place for children and their families.
Specs
Special edition of the popular board game Monopoly • The first ever official Van Gogh Museum edition • Age: 8+ • Available in English and Dutch (add to cart to select language).
Article number:

VG_603149

Brand:

Monopoly x Van Gogh Museum Amsterdam®