Van Gogh Print S Wheatfield with Crows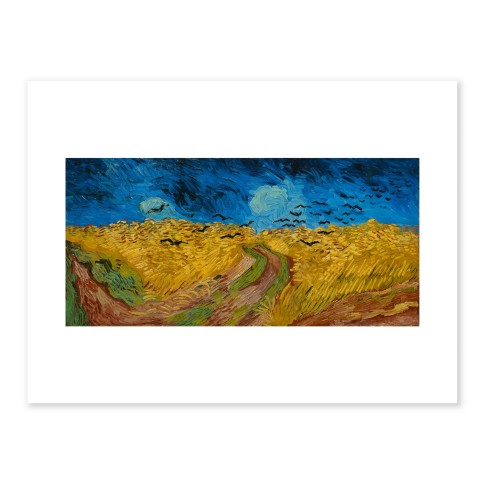 Van Gogh Print S Wheatfield with Crows
Your purchase supports the work of the Van Gogh Museum
Official webstore Van Gogh Museum
Worldwide delivery
Secure payment
In shopping cart
Description
High quality reproduction of the painting 'Wheatfield with Crows' by Vincent van Gogh.

'Van Gogh in Auvers. His Final Months' is a major exhibition about the final months of Vincent van Gogh's life, which he spent in the French village of Auvers-sur-Oise. He was tremendously productive in these months and made several of his most renowned masterpieces. He often created more than one painting a day, while freely experimenting with new approaches to colour, brushwork, formats and subjects.

Van Gogh did want his wheatfields under stormy skies to express 'sadness, extreme loneliness', but at the same time he wanted to show what he considered 'healthy and fortifying about the countryside'.
Specs
A3-size print on paper. Size incl. white border 30 x 40 cm.
Artist:

Vincent van Gogh

Original painting:

Wheatfield with Crows, 1890, oil on canvas, 50.5 cm x 103 cm, Van Gogh Museum, Amsterdam (Vincent van Gogh Foundation)

Article number:

290752

Brand:

Van Gogh Museum®

Length:

40 cm

Width:

30 cm

Material:

250 grams HV silk MC



Exhibition Van Gogh in Auvers, on view from 12 May 2023 until 3 September 2023 at the Van Gogh Museum.